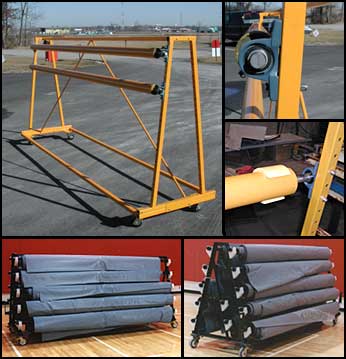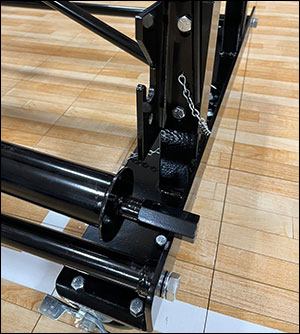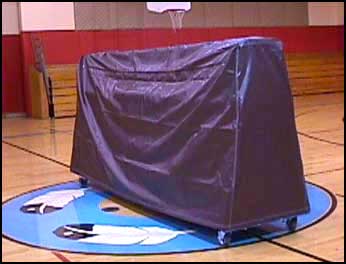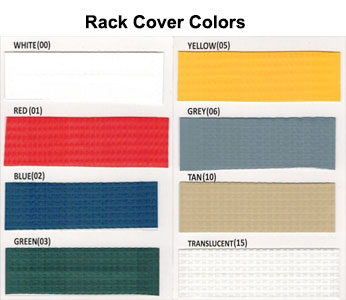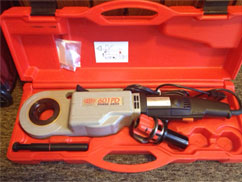 Power Winder for Floor Cover Rack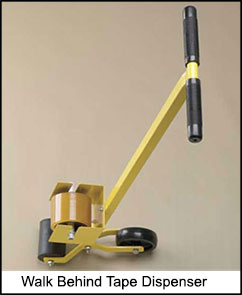 FEATURES OF OUR RACK SYSTEM
Available in 5, 6, 7, 8, 9, 10, 11 and 12 roll capacity.
Adjustable bar brackets allows for larger/smaller diameter sections. Add brackets/bars depending on need.
One wrap Velcro keeps the floor cover from unraveling.
Non-marring casters for easy rolling even with heavy loads.
NEW state-of-the-art locking casters with broader floor contact for better weight distribution.
All steel tubing for all applications, weight capacity of 2000 lbs
34" wide to fit through standard doorway of 36".
Manual hand crank included.
Optional adaptor and power rewind system.
Optional rack cover.
Note: Pickup or Delivery Service - Limited Access Locations
When Carrier makes a pickup or delivery at a limited access location, additional charges will apply.

The term LIMITED ACCESS LOCATION includes but is not limited to the following:
• Individual (mini) storage units
• Churches
• Schools
• Commercial establishments not open to walk-in public during normal business hours
• Construction sites
• Fairs or carnivals
• Prisons
• Military Base/Installations
• Mine Sites
• All deliveries to the following zip codes within Mexico: 06000 through 06995
In the case of delivery, such charge will include an initial notification to make delivery arrangements only if Carrier is provided the correct telephone number of the Consignee.
FOR PROPER WEIGHT DISTIBUTION AND SAFETY when loading/unloading the rack, evenly distribute the weight of rolled gym floor covers. Load from the bottom up alternately from side to side and front to back. Unload the rack following the same procedure in reverse top to bottom.
Heavy Duty Castored Racks for Gym Floor Covers
Our racks are designed to hold up to 12 rolls of 10' wide reinforced vinyl floor covering fabric. It features state-of-the-art locking castors with broader floor contact for better weight distribution, manual winder standard or optional power winder with adapter chuck (110 volt). Roller bearings in the swivel casters allow easy movement of a fully loaded rack by just 2 people, and they can easily deploy and rewind the floor covering segments in minutes. Racks measure 34" wide by 11'-3.5" long by 67" tall when assembled. Optional rack cover available.
Our frames are made out of 1/2" steel and steel pipe for the core tubes. Total weight capacity per core tube is at 500 pounds. Total weight capacity per rack 3000 pounds not counting the weight of the rack itself.
Non-Slip ThoroShield Gym Floor Covers
*Manufacturer's recommendations:
The load rate of your flooring system (in psi) should always be allowed for when choosing gym floor cover fabric weight, # of panels per rack, type, style and number of racks, and ultimately the pounds per square inch of force exerted on your floor by the fully loaded rack(s)".
When the gym floor cover weight exceeds 10 panels or a total of 1350#'s the Deluxe Rack should be specified...The Deluxe rack is made from a heavier gauge of steel and has sealed bearings on both ends of each shaft...both styles of racks offer our exclusive "no-mar" wide tread locking casters for better weight distribution and floor protection.
Mobile Storage Rack Assembly, Loading and Unloading Instructions
Cover for Gym Floor Cover Rack
• Made from ThoroShield 1800 FR fire retardant vinyl
• Keeps rack and cover dust free while in storage
• Keeps kids from trying to climb on the rack and possibly getting hurt
• Stays up off the floor so it doesn't hinder movement of the rack
• Has Velcro closures on one end to speed placement and removal
• Comes in many colors: same color choices as gym floor covers
• Fits any THOR rack regardless of number of rollers/shafts
Description
Unit Price
Standard 5 Roll 4-Caster Rack for Gym Floor Covers
$2075.00
Deluxe 5 Roll 6-Caster Rack for Gym Floor Covers
$2240.00
Standard 6 Roll 4-Caster Rack for Gym Floor Covers
$2195.00
Deluxe 6 Roll 6-Caster Rack for Gym Floor Covers
$2360.00
Standard 7 Roll 4-Caster Rack for Gym Floor Covers
$2350.00
Deluxe 7 Roll 6-Caster Rack for Gym Floor Covers
$2515.00
Standard 8 Roll 4-Caster Rack for Gym Floor Covers
$2585.00
Deluxe 8 Roll 6-Caster Rack for Gym Floor Covers
$2710.00
Standard 9 Roll 4-Caster Rack for Gym Floor Covers
$2690.00
Deluxe 9 Roll 6-Caster Rack for Gym Floor Covers
$2855.00
Standard 10 Roll 4-Caster Rack for Gym Floor Covers
$2850.00
Deluxe 10 Roll 6-Caster Rack for Gym Floor Covers
$2990.00
Standard 11 Roll 4-Caster Rack for Gym Floor Covers
$2975.00
Deluxe 11 Roll 6-Caster Rack for Gym Floor Covers
$3150.00
Standard 12 Roll 4-Caster Rack for Gym Floor Covers
$3110.00
Deluxe 12 Roll 6-Caster Rack for Gym Floor Covers
$3290.00
Power Winder for Floor Cover Rack
$1390.00
2 inch wide x 36 yard Rolls of Clear Seaming Tape (24 rolls/case)
$175.00
3 inch wide x 36 yard Rolls of Clear Seaming Tape (16 rolls/case)
$185.00
Walk Behind Tape Dispenser For 3 inch Wide Tape
$345.00
info@eTarp.com • PO Box 35 • Curtis, MI 49820-0035
1-888-ODIN-INC (1-888-634-6462) • 262-569-7171 • 800-835-8467
(Solicitation calls will Not be accepted)